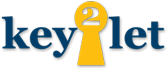 Your local online letting agent offering better property management at a lower cost.
key2let
Hurstvale
off Grange Road
Stoke-On-Trent
Staffordshire
ST8 7RZ
Tel: 07506326212
www.key2let.co.uk
enquiries@key2let.co.uk
LANDLORD GUIDE
Sometimes becoming a landlord is a business decision, other times it is from unforeseen circumstances but either way, we are here to hold your hand through the entire process –taking away the worry and hassle!

The First Steps
Call us on 07506 326212 to arrange for one of our team to take a look at your property. We will provide you with an accurate guide as to the likely rental return that the property will achieve. We may even be able to do this over the telephone if you require a rough guideline, based upon other similar properties that we have recently let. We don't over promise on our service, but we frequently over deliver. If you decide to go ahead and instruct us, we will produce a professional set of particulars for the property with carefully taken photos, to show your property off at its best.

Fully Managed or Tenant find only?
For many, this question is easily answered – Fully Managed! Why would you want the hassle of dealing with your tenants directly, collecting their rent and worrying about your property? With a fully managed option we take the stress and hassle out of the process for you, and we deal with any problems that might arise. If you do only want a tenant find only, that's absolutely fine of course – we'll still carry out all the checks, and take a full inventory etc. After they move in we'll hand them over to you for the remainder of the tenancy. At any stage you want us to take over the management, then we'd be delighted to do so.

Finding a Tenant
We'll leave no stone unturned with our marketing. We will advertise in the local press and on the major national property websitesRightmove . Once we have a tenant interested, we then carry out a full credit/reference check to ensure we know as much as we can about your prospective tenant. If necessary we'll ask the tenant to appoint guarantors if the need arises.
Before Moving In
Before your tenant moves in, we will complete a photographic inventory so there is no argument over the condition and what was included in the rental. We will also read the meters, arrange for the keys to ready, ensure any safety checks are completed and ask you to ensure that the property is clean and ready for your tenant to move in to. Whether it is fully managed or tenant find only we will complete the tenancy agreement, collect the first months' rent, set up a standing order for future rent payments and take a deposit (see below).

Deposit
Current legislation means that any deposit taken for a rental property has to be held in an approved scheme. We will pay your tenants' deposit into a government backed scheme and supply you and them with the details. This safe guards everybody and protects the deposit. At the end of the tenancy, assuming everything is ok the deposit is returned to the tenant once the check-out process is completed. If there are grounds to retain some of the deposit then this can be put to the scheme for a decision.
Insurance
As a landlord you are responsible for insuring the building but the tenant will be told to arrange contents insurance to cover their own belongings.
Moving In
We will hand over the keys to the new tenants on the day the tenancy starts.
After Moving In
The tenants are in, and you have some rent! If we are fully managing the property, we will arrange to pop in and have a quick look around every quarter to check things are okay. In the meantime the tenant will contact us or you if there are any issues. Equally if you need advice then you can call us!
Notice
If you want to regain possession again, this needs to be done in writing and can only be done after a set period (outlined in the tenancy agreement). The minimum length of a tenancy is usually 6 month, and this will be explained to you when you sign your agreement.
Moving Out
Once a date has been agreed for the tenant to move out, we will complete the check-out process which involves meter readings, condition check against the inventory and getting this signed off by you, the landlord. We will then apply to have the deposit returned back to the tenant so long as it is in the condition is as it was at the beginning of the tenancy.